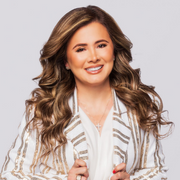 My story

From tragedy to success
A before and after in my life…
changes and CHALLENGING TIMES

Betty Palomino is a successful Colombian businesswoman
based in the United States. She obtained a degree in Business
Administration in her beloved homeland. Her path to success
was full of events that have marked crucial stages in her life.

Over 16 years ago, she suffered a terrible accident that,
according to the medical report, would leave her in a
wheelchair for life, at the same time that her sentimental
partner abandoned her and her small children of 11 and 3 years old; while living in a foreign country and financially strugling.
The first great victory of this Latin mother would come at
that moment because, against all odds, Betty got up
from that wheelchair and, with faith and determination,
she began a new stage in her life as an
entrepreneur.
Her second victory would be to overcome the physical
and psychological abuse by her ex-husband, of which she was also a victim. From there, she was able to move forward and completely
trust in Daniel, her current life partner.
With all that experience behind her, now Betty wants to help you achieve your goals.

Also you can discover all the details about her story and the teachings that life has given Betty  in her book: "From tragedy to success"

Get my Media Kit with all the information you require about my story, my media appearances, my achievements and more contact details.